Most women dream of owning a pearl strand. If you are starting the process of trying to determine what type of pearl, what type of strand is a good fit for you – then you have come to the right place. In this blog, we are going to explore a few of the things that you should consider when making your first pearl strand purchase!
What type of pearl is right for you?
There are three types of saltwater pearls: Tahitian, Akoya, and South Sea. Each of these pearls are unique and have vastly different features. If you are looking for the "classic pearl strand" then Akoya Pearls would most likely be the best fit for you. If something a bit more bold and dramatic is what you have in mind, then Tahitian Pearls would be perfect. If you love larger pieces of pearl jewelry then we would recommend beautiful South Sea Pearls.
Here is a beautiful visual illustration of the differences upon first glance for these different types of pearl strands.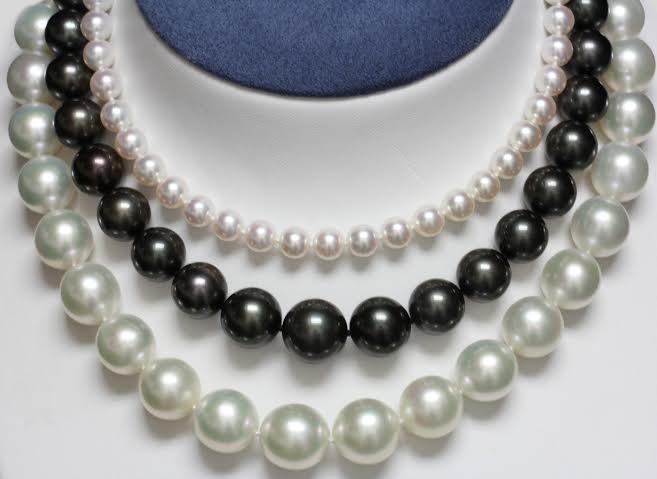 Choosing the shape of your pearl
After selecting the type of pearl you like most, the next step is to identify the type of shape you want. Many people think that all pearls are round. While pearls are round, they also come in gorgeous drop shapes, near round, button, oval and baroque. When selecting the type of pearl shape, it's important to simply pick the shape that you enjoy most.
Here are just a few of the beautiful types of pearl shapes you will come across in your search for a pearl strand: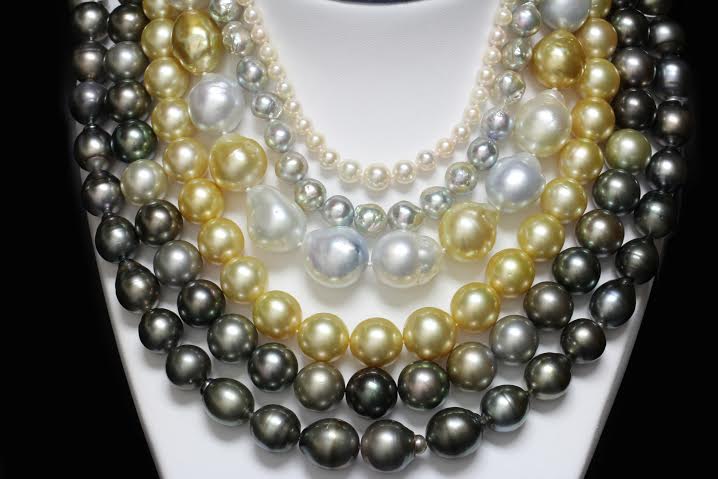 Selecting the quality of your pearl strand
Now that you have selected the type of pearl you want as well as the shape – most of the choices should be done – right? The last aspect to consider when making your first pearl strand purchase is evaluating the type of quality that is important to you. As can be expected, the higher the quality, the more valuable and therefore the price of the piece is higher. Depending on your budget, we recommend selecting a higher quality pearl over a larger pearl or a specific shape. For example, perfectly round highly rated Akoya's will fetch a higher price than near round highly rated Akoya's. In that particular scenario, we would recommend selecting the near round pearls so the quality could be higher for a similar price.
Here is an illustration that will highlight how we at Seven Seas Pearls grade and rate pearls.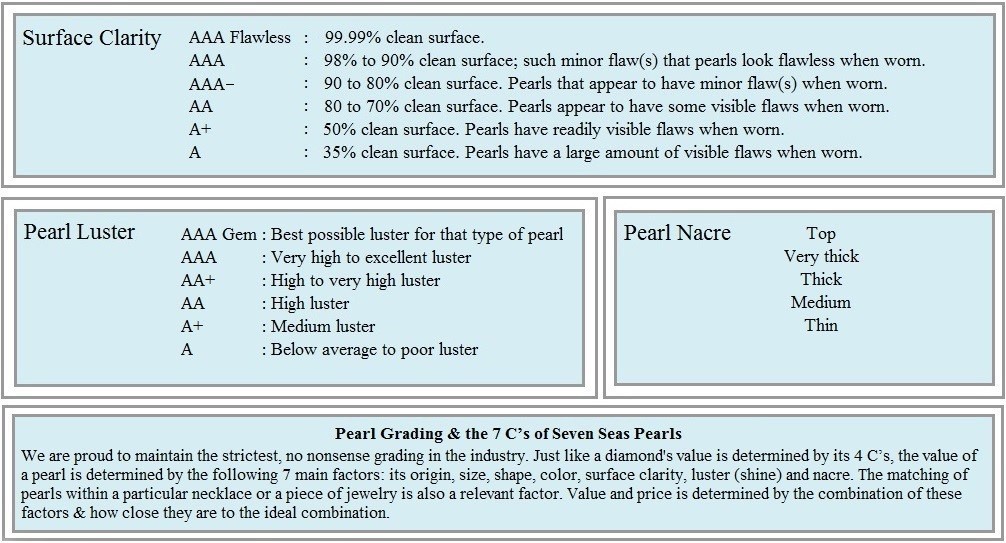 Buying your first pearl strand is very exciting! We would love to help you find the perfect piece that suits your needs, style and budget. We invite you to explore our selection of hundreds of strands on our website and welcome any questions. If you don't see exactly what you are looking for, please let us know. Our website holds only a small percentage of the literally thousands of pearl pieces that we have. If you are near the Los Angeles area, we would love to welcome you to our showroom. No appointment is ever needed. We look forward to meeting you soon!